........


TRAINER SERVICES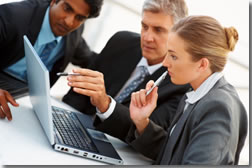 Certified VMware Instructors

Utilized by many leading training organizations throughout the country, Technology Business Group instructors maintain certifications in most industry leading technologies. Our instructors maintain Certified Instructor status with products and certifications such as VMware, EMC, Microsoft, Cisco and many others.

Instructor Led Training

Technology Business Group has VMware Certified Instructors with qualifications to teach all levels of VMware curriculum. If you need introductory training or trainers on virtualization or advanced troubleshooting or performance classes, we have the resources you need. Our consultants have the ability not only do teach the standard VMware curriculum, but also to develop, design and teach custom classes.

Our trainers receive consistently excellent reviews at various US and international venues.






Certifications
VMware Certified Professional
VMware Certified Instructor
Certified Database Administrator by Institute for Certification of Computing Professionals (ICCP)
EMC Proven Professional
Microsoft Certified Systems Engineer
Microsoft Certified Database Administrator
Microsoft Certified Systems Administrator
Microsoft Certified Trainer
CompTIA Certifications: CTT+, A+, Network +, & Security +

Specialties Area


ESX integration with EMC Technologies
EMC Storage Technologies
ISM Foundation
EMC Control Center
SQL Server Database Design, Administration, and Implementation